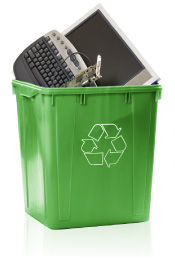 As a responsible citizen of the cloud, Workday has recognized that besides being "100% Green Powered", it is also very important to handle all forms of eWaste in an environmentally acceptable way.
Our goal is simple:
"100% No Landfill"
.
This means nothing that was used at Workday should end up in a landfill or be recycled in inappropriate ways.
In order to achieve this, we have drafted an Electronics Disposition Policy which governs all handling of obsolete electronics at Workday.
The key objectives of the policy are:
Data Safety First: Securely dispose of any data in any media in an irrecoverable way.
Prevent Pollution: Where ever possible and

environmentally sensible, equipment should be re-used internally to extend its life cycle providing value to Workday.

Wherever internal re-use is not possible, opportunities for resale or donation should be pursued.
Minimize Waste:

Where re-use is not a viable option, every reasonable effort will be made to control all Electronic Wastes and to avoid Electronic Wastes from entering landfills, incinerators or entering other environmentally

irresponsible processes.

Environmental Partners shall contractually commit to employing environmentally responsible processes and practices in the recycling and disposal of materials.

All exports and imports of Electronic Waste handled by Workday and its authorized environmental partners will comply with existing international waste trade agreements and legal requirements.
Be a Responsible Neighbour:

Workday does not permit Electronic Waste to be exported from developed (OECD/EU) to developing (non-OECD/EU) countries either directly or through intermediaries.
After a diligent selection process, Workday has chosen a vendor that complies
with the required eStewards certifications
.
We are in the process of starting our collaboration and executing the disposition process as defined by our policy. As we move forward, we will expand coverage of this process to all obsolete electronics at Workday.